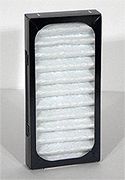 Bionaire BAPF29 Dual Filter.

Bionaire BAPF29 Dual Filter is a Genuine OEM Bionaire Filter.
BAPF29 Dual filter fits BAP242, BAP1242, BAP412, BAP1412, BAP422, BAP1422, BAP815, BAP825.
Bionaire BAPF29 combines HEPA type filter with carbon filter.
Filter Dimensions, inch. 10 x 4.7 x 1.3
Filter lifetime: 2 to 3 months.
BAPF29 Dual Filter features Microban anti microbial protection.
Bionaire BAPF29 HEPA filter comes two filters per pack.