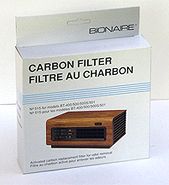 Bionaire 515 Carbon Filter.

Activated carbon filter 515 is a Genuine OEM Bionaire Filter.
Fits in Bionaire air purifier model BT500, BT500S, BT501.
Traps from the air over 4000 chemical substances and noxious odors.
Filter Dimensions, inch. 22.0 x 4.3 x 0.2.
Filter's Lifetime: 3 months on average.
Complements Bionaire 510 electret filter
Comes 1 filter per pack.